How to Dismantle an Atomic Bomb Album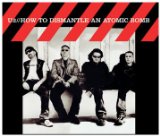 How to Dismantle an Atomic Bomb album cover
Track list:
Vertigo, Miracle Drug, Sometimes You Can't Make It On Your Own, Love and Peace or Else, City of Blinding Lights, All Because of You, A Man and A Woman, Crumbs From Your Table, One Step Closer, Original of the Species, Yahweh, Fast Cars (not all versions).
Bonus DVD: U2 Interview with Neil McCormick, Sometimes You Can Make it On Your Own (Video), Crumbs From Your Table (Video), Vertigo (Temple Bar Remix Video), Sometimes You Can't Make it On Your Own (Acoustic Couch Video), Vertigo (Video)
How to Dismantle an Atomic Bomb was released on 22nd November 2004 (23rd November in the US), to an enthusiastic welcome from the fans. It has been a long time in development, with the first few songs being formed while the band was still on the 3rd leg of the Elevation tour in the Autumn and Winter of 2001. Bono himself said that that had been a very creative time for the band and fans wouldn't have to wait long for some new material. In the end it turned out to be a 3 year wait but then U2 fans are used to that.
Bono said that this would be U2's 'first rock-n-roll album'. He said they had waited 25 years to record this album, which shows just how convinced the band were that this was their best record to date. However, reaction from critics (and some fans) was mixed. While most agreed that the album contained a fine collection of songs, some considered that it was too similar in style to All That You Can't Leave Behind. After so many years of U2 reinventing themselves for each new release, they felt that this new CD was like ATYCLB part 2.
The band called in Steve Lillywhite to produce HTDAAB, which was the first time he had been so involved in a U2 album since War in 1983. However, Flood, Jacknife Lee, Nellee Hooper, Brian Eno, Daniel Lanos and Chris Thomas were also involved in production and brought their own influences to different songs. Lillywhite was particularly pleased that this new CD was basically a straightforward guitar-based rock album without any of the techo-style sounds of the Pop era. During recording, Edge's demo CD of the new songs was stolen in Eze in the south of France and was never recovered. Bono stated that if the songs turned up on the internet before the official release date, then the CD would be released immediately - but this didn't happen.
The name of the album is even more of a mouthful than the one that preceded it and as Larry said about that one, "It'll never fit on a T-shirt". It comes from a conversation that Bono had with Christian songwriter Michael W. Smith in 2004. He asked Smith if he knew how to dismantle an atomic bomb and when Smith said that he didnít Bono answered, "With love." In contrast to some of the more angry songs of the past, every song on the album is a love song of one sort or another, whether that be between a man and a woman, man and God or within the family. 'Sometimes You Can't Make it On Your Own' deals with Bono's feelings for his father Bob, who died of cancer in the middle of the Elevation tour in August 2001. Bono has said in several interviews that he feels that his dad (who was an amateur operatic singer) has passed his voice on to him. Many people have commented that Bono's voice is stronger now than it has been for years. One Step Closer also deals with the uncertainty of not knowing what happens after death.
The album opens with the first single taken from it, Vertigo. Bono said in an interview that there was a connection between this song and 'Stories For Boys' from the band's first ever single (the U23 EP) in 1979. This was said to be "one for the anoraks". Popular opinion seems to be that the connection is the line "Hello, hello", which appears in both songs, although no one seems to know for sure. Vertigo was in many ways the Elevation of HTDAAB. Both songs were used as the openers for their respective tours and were real crowd favourites.
Four singles were released from HTDAAB although not all in the same markets: Vertigo, Sometimes You Can't Make it On Your Own (UK), All Because of You (US) and City of Blinding Lights. Original of the Species was released for radio airplay in the United States only. At the free concert U2 played under the Brooklyn bridge NY on 9th November 2004, Bono introduced the song 'All Because of You' as "a love song to The Who".
The song 'Miracle Drug' was written about Christopher Nolan who was a pupil at Mount Temple Comprehensive who was paraplegic after being temporarily deprived of oxygen at birth. However, his mother believed that he could understand the world around him and home-schooled him for years. Eventually a drug was discovered that allowed him some movement in his neck, after which he began writing poems with a 'unicorn' device attached to his forehead. In Bono's words, "he put out a collection called Dam-Burst of Dreams, which won a load of awards and he went off to university and became a genius. All because of a mother's love and a medical breakthrough." 'Miracle Drug' is a tribute to the medical teams who made his treatment possible and the way God worked through them to help him overcome his disability.
The Vertigo tour which supported HTDAAB was postponed after a close family member of one of the band became ill and needed treatment. The tour kicked off in San Diego 2 months late on 28th March 2005 but the first leg in the US was cut short so the band could return to Europe in time for a series of outdoor shows over the summer. A third leg in the States in the autumn of 2005 was announced so that U2 could play all the places they had to miss out the first time. Dates for South America, Australia, New Zealand, Japan and Hawaii were scheduled for early 2006 but most had to be put back to the end of 2006, again due to the illness of the family member.
Go to U218 Singles page.
Random U2 lyric:
"And I felt like a star, I felt the world could go far...if they listened to what I said" - Stories for Boys
Search this site:
Loading